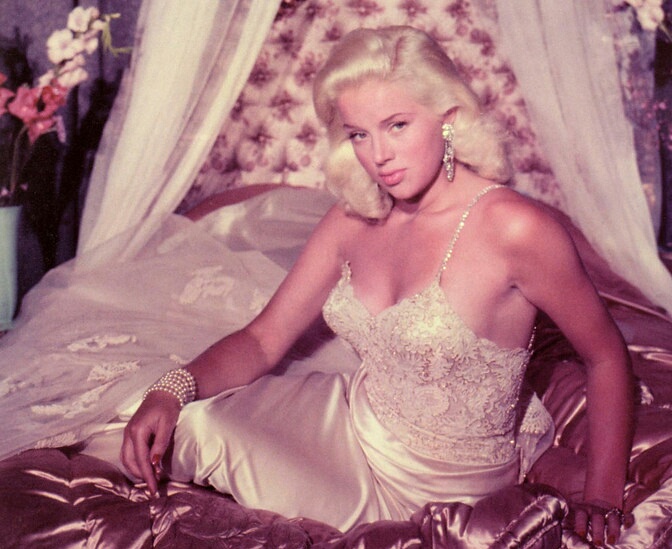 "Are you looking at me!", she seems to be saying with a certain degree of insolence. "Go on then, look all you like. I guess that's what I'm here for, to be looked at by people like you. Feast your eyes on my baby-doll good looks, my shapely figure and glamorous hair. But forgive me if I look back at you, if I match your gaze with my own stare. I can see too, you know. Oh I see lots of things in this business! You'd be surprised what I've seen. And I'm prepared to talk about it too. Shall I talk about you and tell you what I see? What you look like to me? Or would you prefer me to keep quiet. Hold my tongue. Play the dumb blonde? Just like all the rest, I guess. Well, I'm sorry, but there's nothing dumb about me!"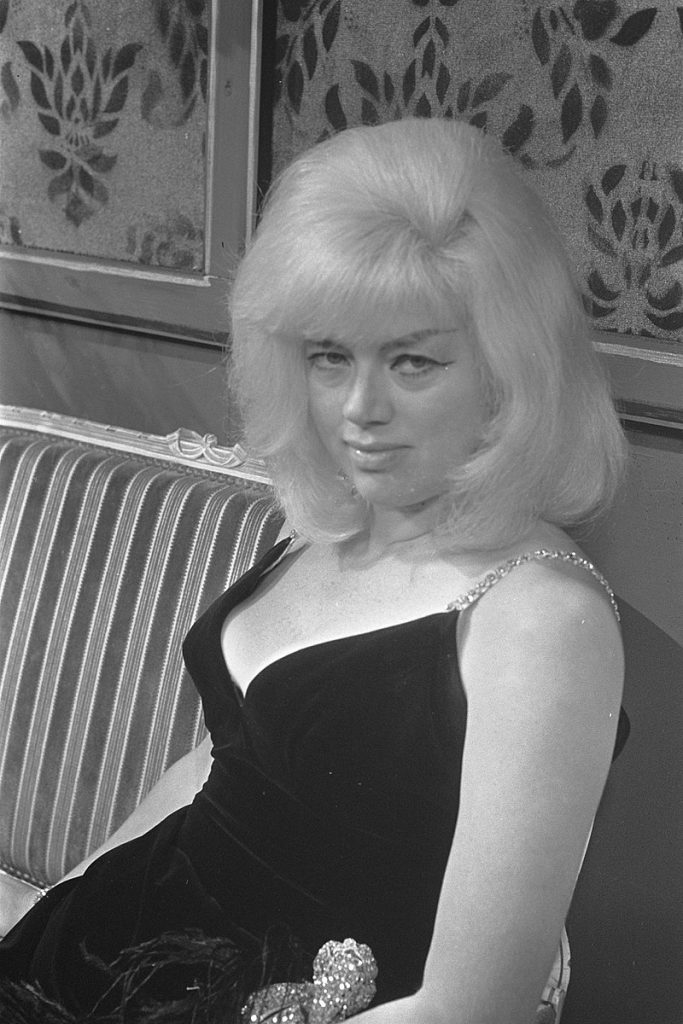 I can only imagine what's going on in her head when this photograph was taken. Maybe it went something like this? "Still looking at me, I see. And after all this time. Well I'm here to be looked at, I guess, everything calculated to attract your gaze. And there's so much more to see now, isn't there? A few extra pounds and a few more lines, and a lot more experience. You might not like it. But, then again, you might. To be honest, I'm tired of it all but it's what I do, what I am. More brassy than classy, they say, and yet I'm still more sassy than dumb. I have to keep my wits about me these days, use all the tricks of the trade to go on, if I want to work and still be 'Diana Dors'. And I do, however tough that might be. That's me. Not for much longer perhaps. So while I'm still around, go on and take a good long look. I've nothing to hide. Don't be intimidated. I won't bite. Well okay then, I might."
Introducing Diana
During the 1950s, Diana Dors (1931-84) became Britain's most successful sex bomb, being the only British blonde bombshell to be able to hold her own against the likes of Hollywood's Marilyn Monroe and France's Brigitte Bardot. From the 1950s to her death in 1984, Dors sustained a high-profile career in Britain despite frequent reports of scandal in the tabloid press and the loss of her hour-glass figure.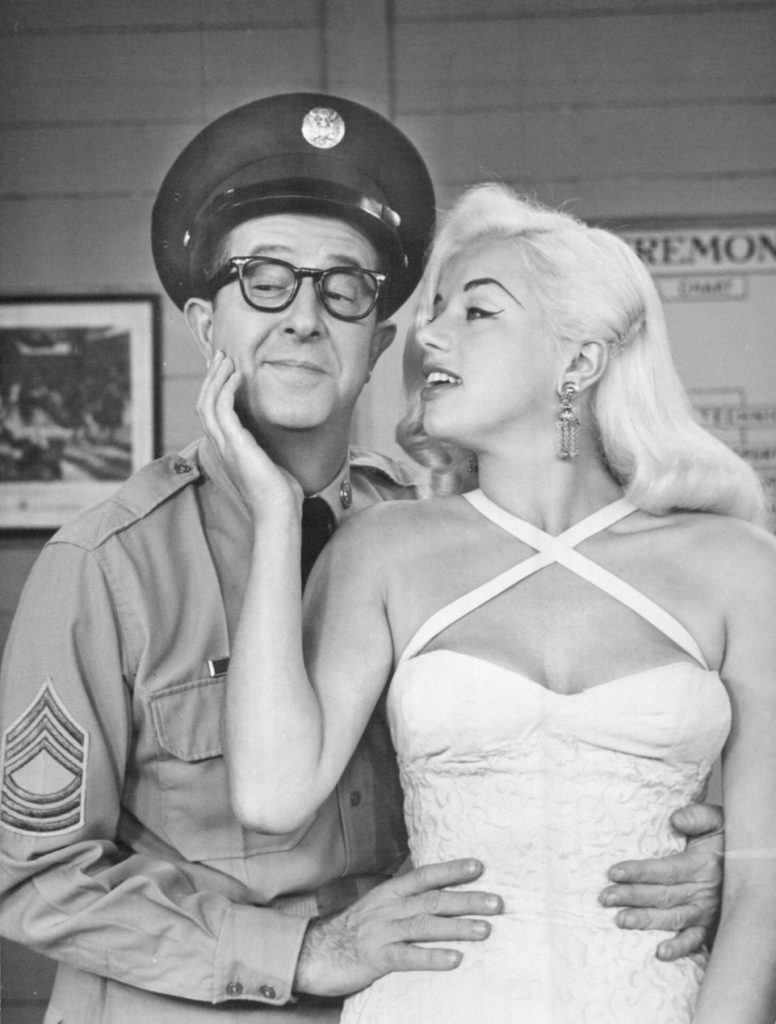 When it became harder for Dors to secure film work in the 1960s, she turned to television, theatre and live cabaret, making regular appearances on TV chat shows and panel games. She also published a series of memoirs and appeared regularly in magazines. Diana Dors was, in other words, as much a celebrity as a film star, as adept at manipulating media interest in her as she was at performing in front of film cameras and microphones.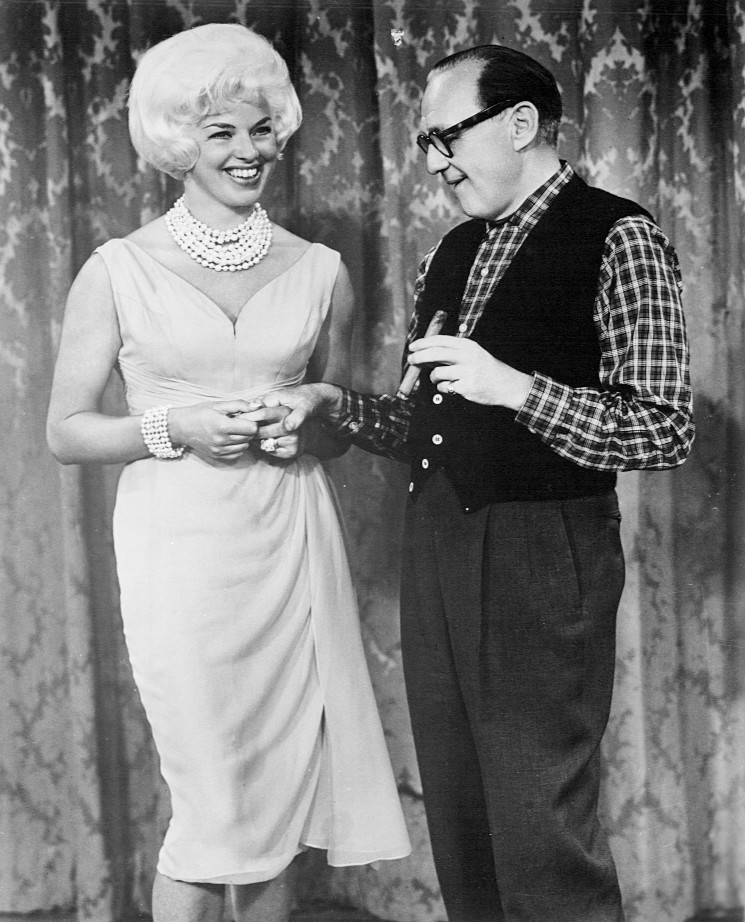 Diana Dors was a major film star for a brief period in the mid to late fifties. While Marilyn took starring roles in Hollywood from 1953 to 1960, and Bardot starred in French films from 1956 to 1973, Dors only achieved top billing in movies between 1955 and 1959, starting with Miss Tulip Stays the Night (Leslie Arliss, 1955) and ending with Passport to Shame (Alvin Rakoff, 1959). Of her six star vehicles, Yield to the Night (J. Lee Thompson, 1956) was her most critically acclaimed and it's the best remembered of all her movies. It was nominated for a BAFTA award and a Palme d'Or at Cannes in 1956, and it earned Dors a three-picture deal in Hollywood with RKO. Her Hollywood star vehicle The Unholy Wife (John Farrow, 1957), in which she appeared opposite Method actor Rod Steiger, was effectively a remake of Yield to the Night but much less effective. It failed to take America by storm and, after making two more films for RKO, Dors returned to Britain to star in another two movies. However, it was clear by 1960 that her film star status was waning and she was forced thereafter to take supporting roles and eventually character parts (often little more than cameo appearances) in order to continue working in the film industry.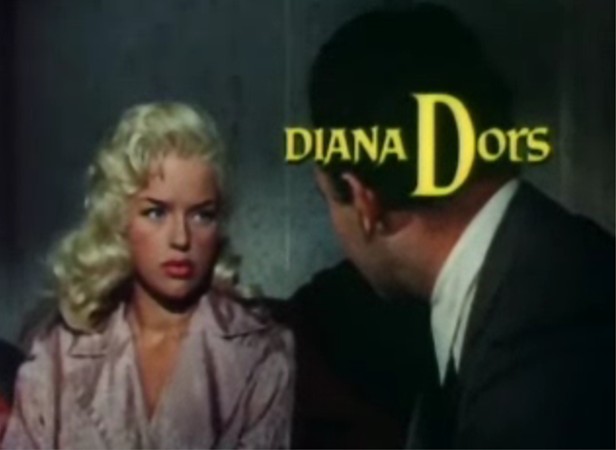 While Dors' time as a fully-fledged movie star may have been brief, her film career actually spanned thirty-seven years, during which time she made a total of 66 films. Having made her screen debut at the age of 15 in 1947, she appeared in her final film at the age of 52 in 1984. Between 1947 and 1984, she proved herself adept at supporting and starring roles, character and glamour parts, playing comedy and serious drama. Indeed, she ran the gamut from children's fantasy films, soft-core porn, adventure movies, horror films, romantic comedies, Westerns, social problem films and melodrama. Occasionally she played opposite some major Hollywood stars, like Victor Mature, Joan Crawford and Jack Palance. She also worked with some important and influential directors, such as David Lean, Maurice Elvey, J. Lee Thompson, Carol Reed, Jack Cardiff, Jacques Demy and Joseph Losey. Yet her image as a 'sex symbol' and her propensity to attract media attention (both wanted and unwanted publicity) has meant that her work and talent as a film actor has been largely overshadowed. I'd like to put that right.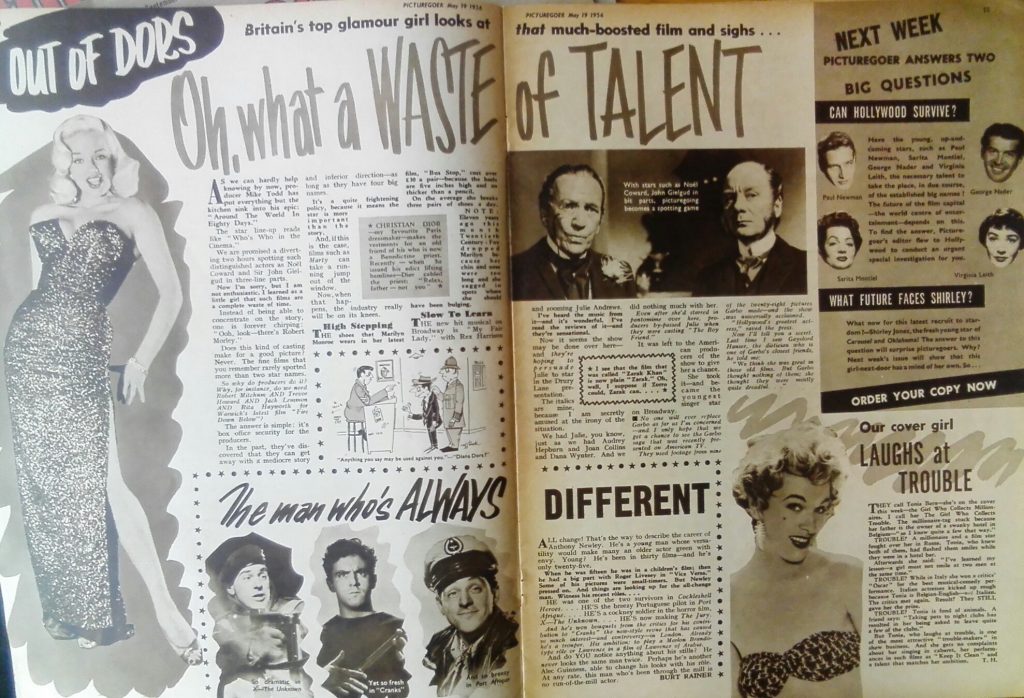 Early Dors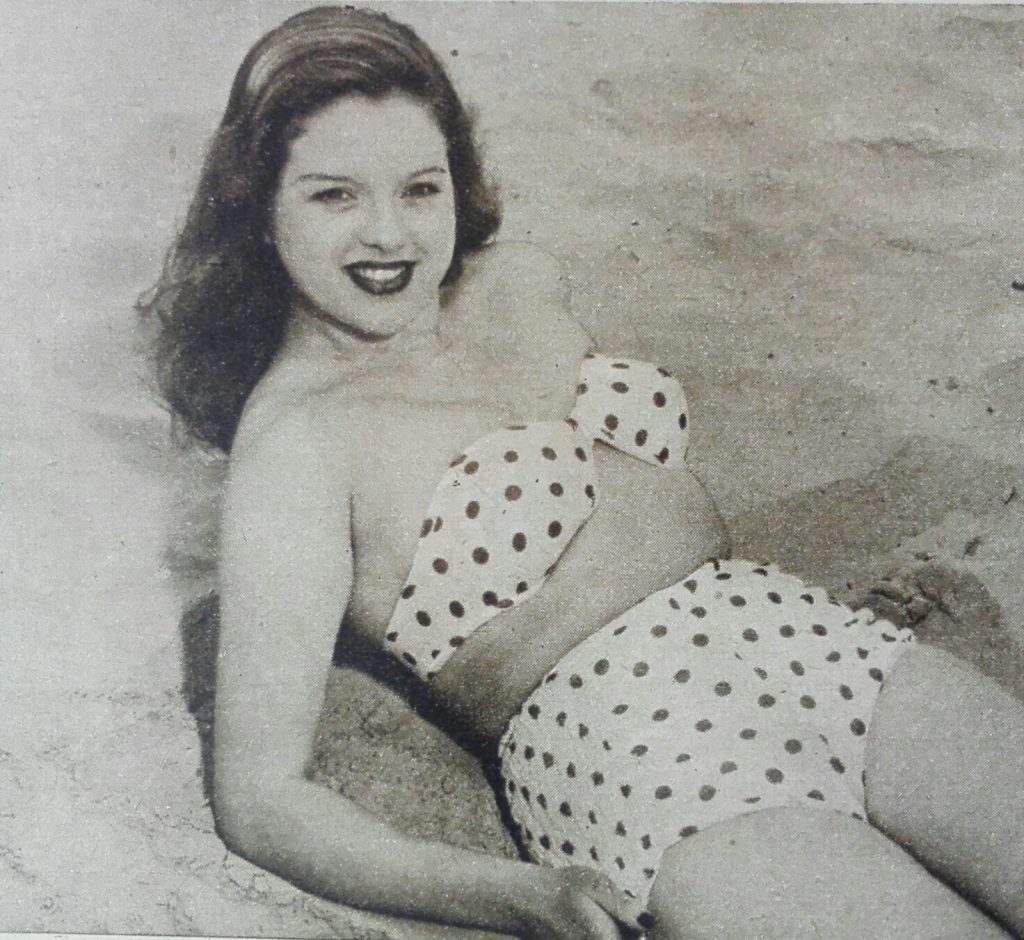 First and foremost, Diana Dors was an actor. She was trained at LAMDA (London Academy of Music & Dramatic Art) in 1946 and then secured a contract with the Rank Organization in 1947, where she completed her training at their famous Charm School. As an actor, Dors performed on stage, in film and in television, performing both serious drama and comedy, mainly in Britain, occasionally in Hollywood and Europe. Even as a teenager, her acting talent was recognized. During the late 1940s and early '50s, between the ages of 15 and 19, she secured a steady stream of small roles in British films.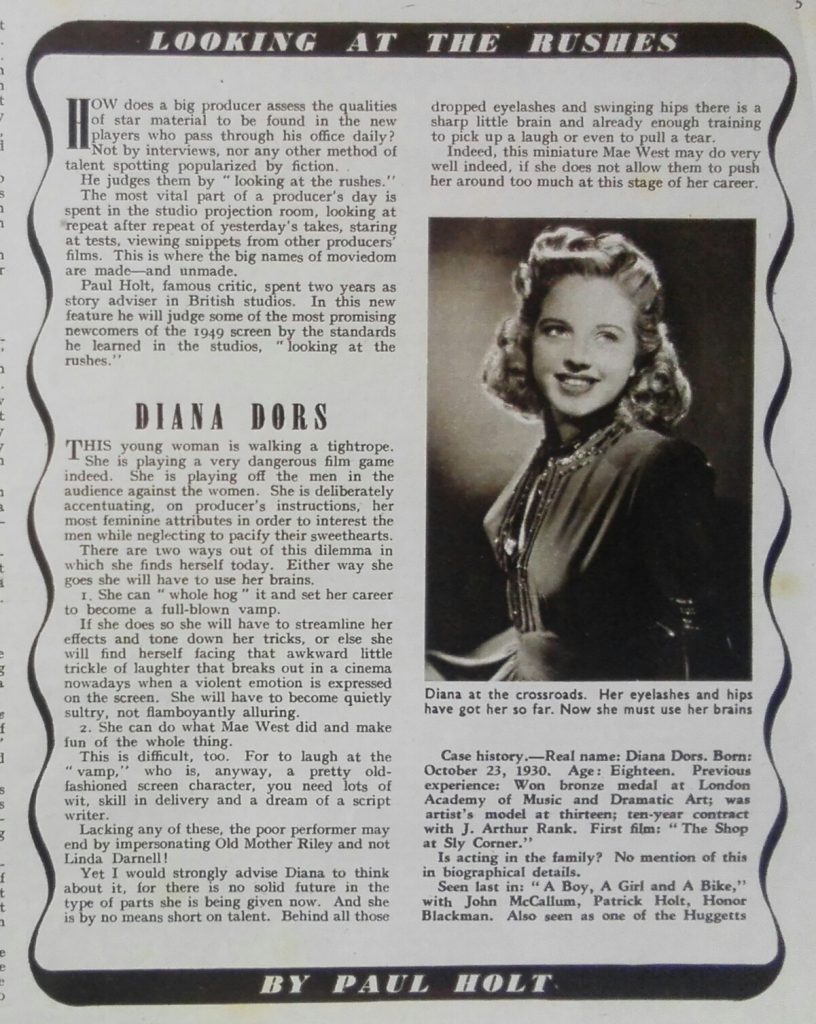 At this formative stage of her career, critics like Paul Holt were quick to note Dors' talent and intelligence but also the danger she ran in being cast in vamp roles and by being given the glamour treatment, all too likely to result in a short shelf life as well as a limited range of roles.
By 1950, Dors had graduated to major supporting roles in such films as Diamond City (David MacDonald, 1950), My Wife's Lodger (Maurice Elvey, 1952), Is Your Honeymoon Really Necessary? (Elvey, 1953) and The Weak and the Wicked (J. Lee Thompson, 1954). Here and elsewhere, Dors was immediately recognizable as a type, the Glamour Girl, which she had been playing fairly consistently since her debut in The Shop on Sly Corner (George King, 1947).
A British blonde abroad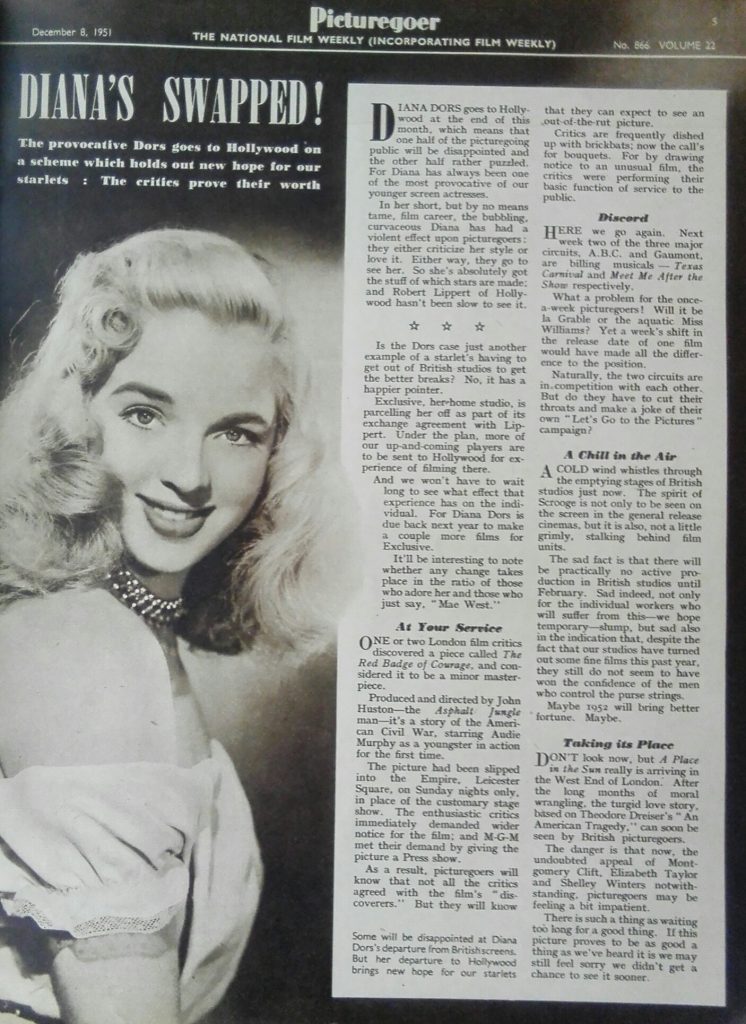 As this image reveals, Dors was not only glamorous by the end of 1951 but also a blonde. Aged 21, she had acquired Hollywood film star looks even if her films didn't have the budgets and production values of Hollywood movies at this time. Dors' new image suggested that she wouldn't be staying in Britain for long and that had her sights were firmly set on Los Angeles.
By this time, the Dors' type was established as a fashionable, attractive and ambitious girl with a taste for stylish clothes and jewels, dance halls and nightclubs, alcohol and cigarettes, fast cars and fast men, usually mobsters or petty criminals. In her films and private life, she was often just on the wrong side of the law, even though her heart was mostly in the right place. Flirtatious but sulky, her trademark was her pout and her slender legs, which were consistently revealed, noticeably on her entrance into a film. As she most often played small roles with just a few minutes of screen time, she had to make an immediate impression. There was little time for her to establish her character and so with each role she re-presented the same basic persona, one that regular moviegoers would immediately recognize. In most instances, audiences knew exactly what she signified and where she was coming from.
Since Dors spent the first six years of her film career in minor roles with limited screen time, she became adept at making an immediate impression upon audiences and stealing scenes with her glamour, sexuality and wit. During the early 1950s, it was clear that Dors was developing other talents besides acting. One of these would propel her from the margins of British cinema to the international spotlight of celebrity.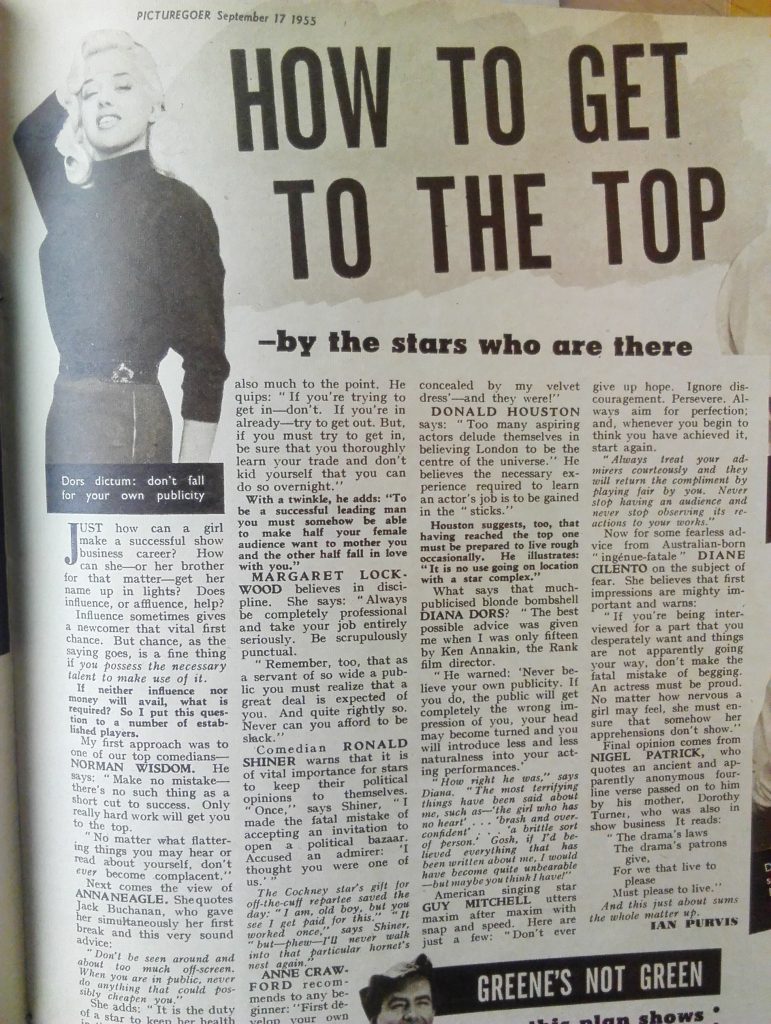 While other British actresses such as Anna Neagle, Celia Johnson and Glynis Johns kept low public profiles, Diana Dors went all out to court attention, particularly from the tabloid press. Considerable media attention has given to the publication of a photographic book called Diana Dors in 3-D in 1954, which was accused of being obscene. Her appearance that year at the Venice Film Festival in a gondola wearing a mink bikini proved to be a highly successful publicity stunt that brought her to international attention. By this time, she was regularly headline news in the British papers, due largely to a series of scandals concerning the criminal activities of her first husband Dennis Hamilton. By the mid Fifties, Dors was dominating the movie magazines in Britain. Almost every edition of a major film publication featured an article on her during this period and, more often than not, she could be found on the cover.
It's clear from a Picturegoer article published on September 17, 1955 (see image above) that Dors was believed to have reached the top of her profession by the mid-Fifties. Written by Ian Purvis and entitled 'How to get to the top – by the stars who are there', Dors was one of a number of major British stars who offered readers advice on how to be successful in show business. Anna Neagle, for instance, advised discretion. "When in public," she suggested, "never do anything that could possibly cheapen you." Margaret Lockwood, the ultimate 'Wicked Lady,' argued that discipline was what was really needed, adding "always be completely professional", including being "scrupulously punctual". "Never can you afford to be slack," she warned. Dors, however, insisted that the route to success came from never believing in your own publicity. Here, she noted that having been described in the press as heartless, brash and over-confident, she would have become, in her own words, "quite unbearable" had she believed any of these things. The implication here was that publicity was the key to success for a star but that the wrong kind of publicity could be personally damaging if taken to heart. Her rule of thumb was to treat it all with a heavy dose of scepticism.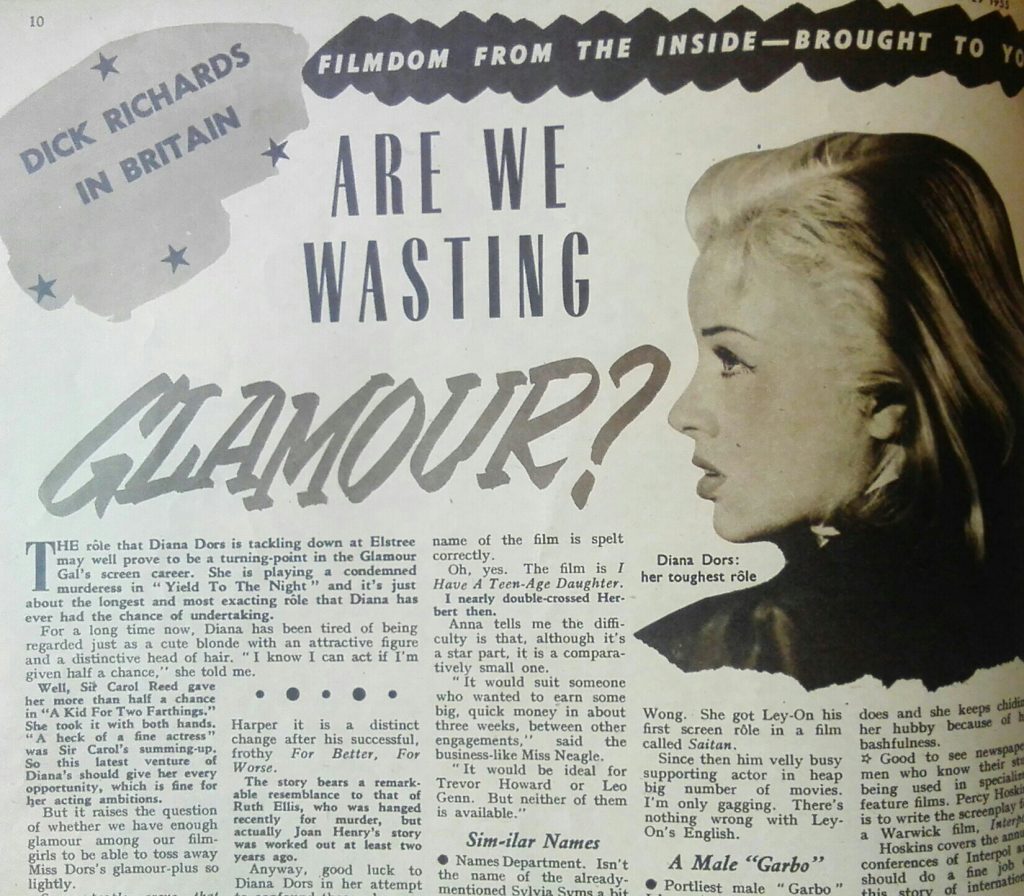 If Dors' publicity was over-shadowing her work as a screen actress during the early to mid-Fifties, then she briefly transformed this situation in 1956 with a distinguished performance in Yield to the Night, the film being promoted as her breakthrough into serious dramatic acting.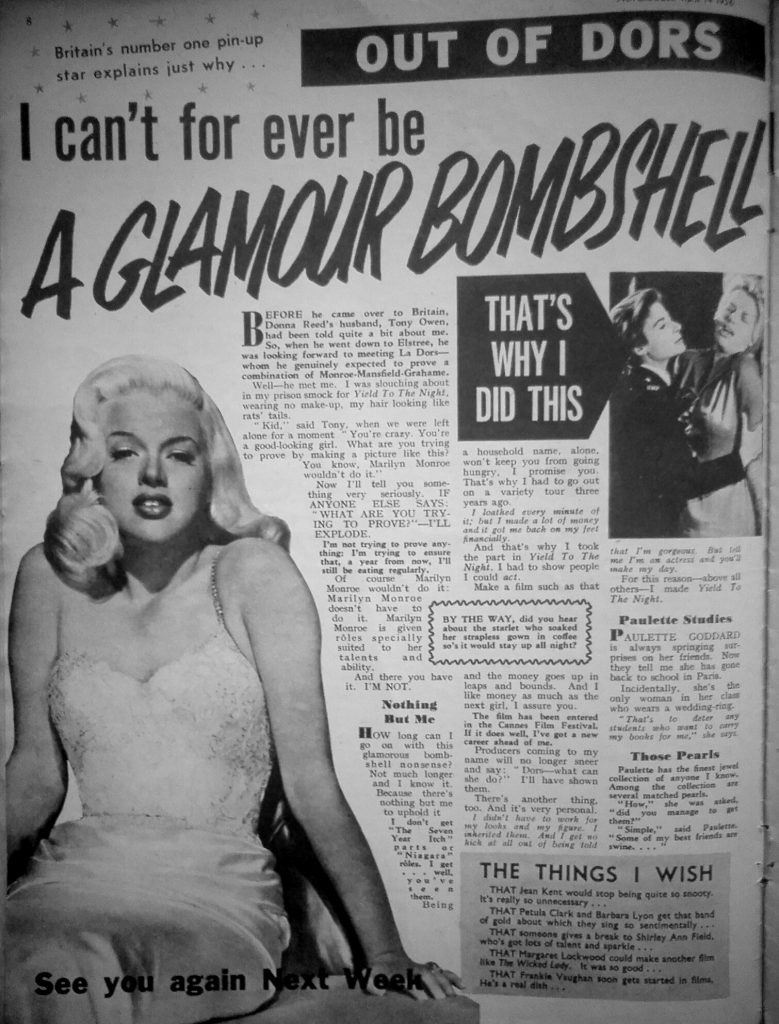 In April 1956, Dors asked the readers of the popular British movie magazine Picturegoer, "How long can I go on with this glamorous bombshell nonsense?" Here, she explained that she'd taken the part of the female prisoner in Yield to the Night to show people that she could act.
Playing a young woman imprisoned and finally executed for murder, Dors was de-glamourised in her prison scenes with the dark roots of her bleached hair showing through. She was also costumed in a shapeless, drab prison uniform. In other words, she was 'de-glamorized.' However, her familiar blonde bombshell image appeared in the scenes depicting events prior to her character's imprisonment, presenting two very different incarnations, the actress and the star. While not all members of the press were prepared to take Dors seriously as a dramatic actor, this award-winning (BAFTA and a Palme d'Or) film enabled Dors to showcase her acting credentials at last. However, for all that, she posed repeatedly in glamorous outfits for international press photographers when promoting the picture at the Cannes film festival.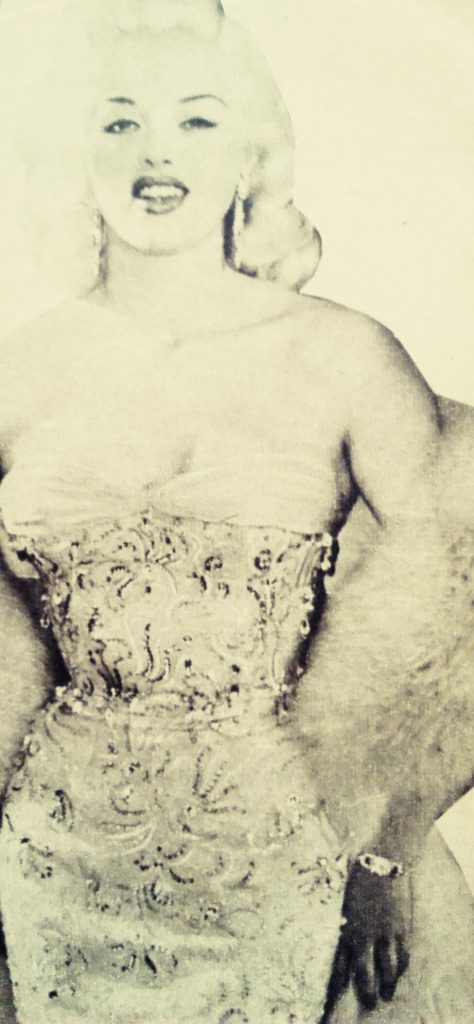 The sensation she provoked at Cannes brought her to the attention of Hollywood executives and resulted in a three-picture deal with RKO.